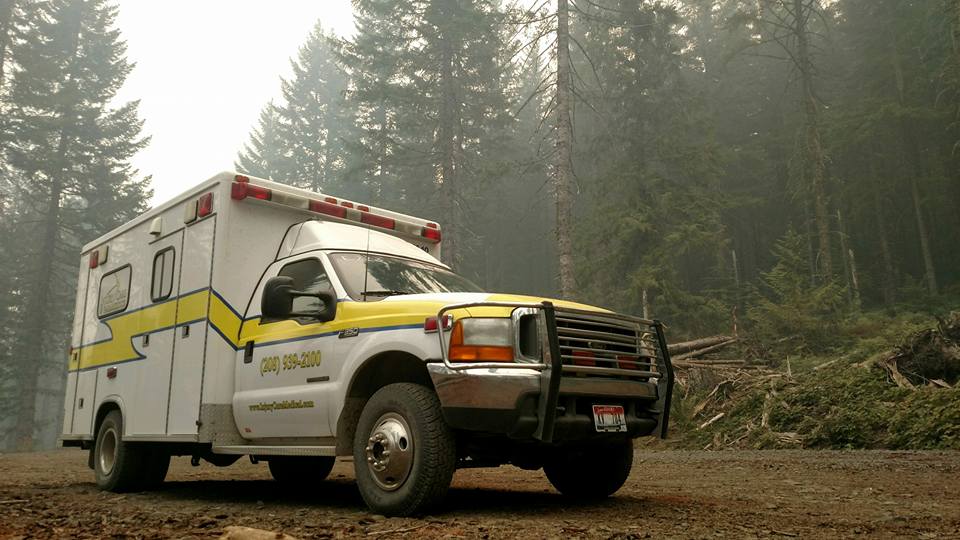 Injury Care EMS is the trusted source for standby medical care; and for BLS, ALS and Critical Care transports. We provide the emergency medical personnel, equipment, and expertise that Government Agencies require to fulfill their missions safely, effectively and efficiently.
Wildland Fire and Disaster Support Services Contracts in place at Boise Interagency Dispatch Center for transport and non-transport services.
Available for federally managed fires in Idaho, Washington, Oregon, Utah, Wyoming, and Colorado.
Single resource EMT-B and Paramedics available with complete State-inspected packs.
Fully-stocked Idaho State certified ALS ambulances capable of transport.
Scaleable resources for any size fire event.
EMTs and Paramedics that are line-qualified, licensed, arduous pack tested, and holding current Red Cards.
24/7 online medical control.
Registered with SAM, VIPR, and IPP.
Previous emergency medical services for federally managed wildfires and disasters:
Chetco Bar Fire 2017
Rim Fire (Oregon & Washington) 2017
Umpqua North Fire 2017
Whitewater Fire 2017
Bear Butte Fire 2017
Cinder Butte Fire 2017
Pioneer Fire 2016
Mile Marker 14/Hwy 21 Fire 2016
Soda Springs Fire 2015
Teepee Springs Fire 2015
Mack Fire 2014
Whiskey Complex Fires 2014
Freeze Out Ridge Fire 2014
Nez Perce Fire 2013
Beaver Creek Fire 2013
Pony Fire 2013
Weiser Fire 2013
Trinity Ridge Fire 2012
Trinity Ridge West Fire 2012
Karney Fire 2012
McGuire Fire 2012
CONTACT us 24 hours a day, every day for more information or to schedule transportation.