Injury Care EMS is the largest private ambulance company in Idaho, serving the Pacific Northwest from Seattle to Salt Lake City and beyond.  We fly fixed-wing air ambulances out of Boise, Idaho and are able to service any airport in the continental US!
Injury Care EMS are the patient transportation experts. We provide compassionate, convenient, professional bed-to-bed service. Just call us, we'll answer all your questions and manage all the details.
Not sure is an air ambulance is the right solution? Call us. We have medical escort, long distance ground ambulance and gurney vans. We can help you find the right transport option.
All flights are operated on medical aircraft holding certificates issued under 14 CRF Part 135. We provide a full range of fixed-wing air ambulance services and commercial medical escorts.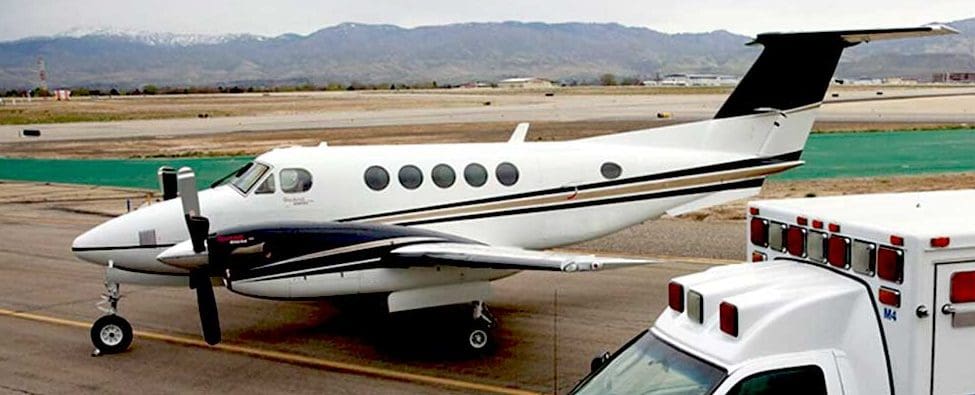 All of our fixed-wing medical aircraft are pressurized and climate-controlled and, depending on the configuration of the medical equipment and stretcher, can accommodate one patient, and two critical care medical personnel.
The Injury Care EMS fixed-wing air transport crew includes:
An experienced pilot with an Airline Transport Pilot certificate (the highest US rating).
A CEN or CCRN with CFRN education within 2 years of hire.   Injury Care EMS flight nurses are also ambulance based clinicians, with multiple years of ICU and or ER experience.
An FP-C  Paramedic.
All Critical Care medical personnel have a minimum of 3 years Critical Care Air or Ground Transport experience. The configuration of the medical crew may change based on the condition of the patient.
The aircraft are also ideal for transplant teams and rapid delivery of organs.
Aircraft are IFR certified, able to operate during inclement weather.
All medical personnel have successfully completed flight orientation, which includes training in flight physiology, mechanical ventilation, airway management techniques, and advanced patient simulation in the aviation setting.
We have an impeccable record of safe, compassionate and professional service. Injury Care EMS is a preferred in-network provider with most major insurance Worker's Compensation.
Injury Care EMS operates 24×7, so contact us for a quote anytime, day or night.